We understand that moms and dads have it tough and coffee makes their jam-packed days a little easier. While the "mommy wine club" is perfect for the afternoon and evening, when it comes to starting the day and pushing through every struggle, coffee is the real queen (or king). Here are 40 hilarious coffee memes moms and dads can relate to. So grab a cup-of-joe and have a good laugh.
1. We Know Waking Up Can Be Hard
2. When You're This Tired
3. Or You Forget About Your Coffee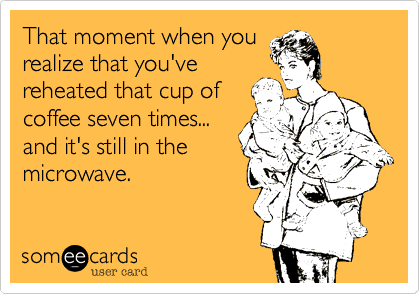 Sometimes the need for coffee is best expressed in the face of an animal or pet…
4. Then You Wait…
5. But When That First Cup Hits…
6. Just Say: "Keep Em' Coming"
7. Then You're Ready to Interact with the Kids
8. Unless You Have Toddlers
See what coffee does to a parent's brain…
9. In Your Head…
10. Coffee Makes You Feel Something…
11. That's Probably True
Now see how coffee makes the brain work…
12. Coffee Helps You Rationalize
However…
13. Some Days It Might Not Help
14. Nuff Said
And what happens when the coffee rush ends…?