Science, technology, engineering, and mathematics, or STEM for short, are important fields that help us improve our lives and make technological innovations that impact our future. Unfortunately, there's a huge gender gap in STEM.
Research shows that women are less likely to graduate with a STEM degree or enter a career in STEM than men, with women of color being even less likely to pursue a career in STEM due to less encouragement and opportunities to explore those fields.
A great way to bridge the STEM gender gap is to encourage kids through fun toys. Here are 5 toy ideas to help bridge the STEM gender gap. All of these toys have been recommended by specialists in STEM fields.
For ages 3-6
This adorable, electronic robot talks and has colorful, flashing lights. It will teach kids early math skills, shapes, colors, and letters. Kids can also learn early coding skills by entering "secret codes."
For Ages 6-8
This series of cool, light-up animal puzzles are made from plastic tiles wired with LED lights. Each set comes with 4 different variations. It can be challenging for kids to put together at first, but once they get the hang of it, they'll enjoy making different shapes and decorating their room with their light-up creations.
For ages 4 & up
Children will learn early coding skills by coding cute animals and playing with them. This is entirely screen-free playtime where kids go on a storybook coding adventure with various coding challenges.
For ages 3 & up
These colorful, 3D magnetic tiles are easy for kids to build with. The best toys for kids are toys that have various ways to play. Kids can make anything they want and let their imagination soar. They will also learn spatial awareness and early math and science skills.
For Ages 3 & up
Children get to learn how gears work by assembling four, different geared machines or they can even make anything they want. Younger children can place the gears on the board and spin them. This helps them improve their fine motor skills. Older kids can assemble more complex machines and further develop their reasoning skills.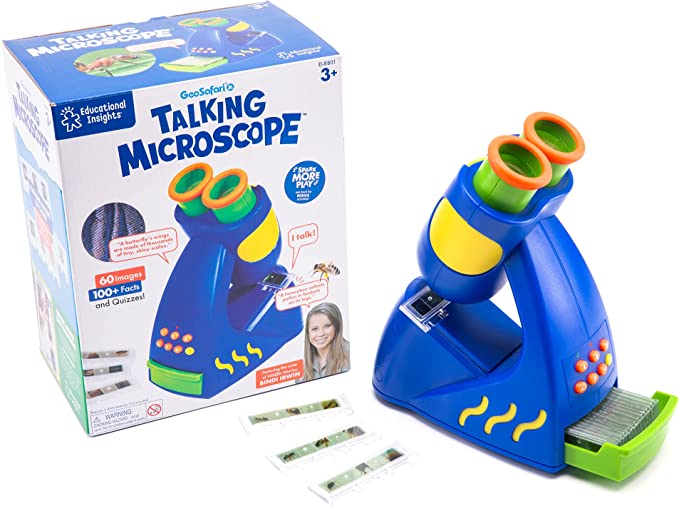 For Ages 3 & up
This awesome, talking microscope will teach preschoolers about animals and plants. It's easy for younger kids to use and comes with 60 full-color images and will teach your child awesome scientific facts and ask them questions as they look at the cool images through the microscope.
For Ages 8 & up
Kids will build their critical thinking skills, spatial awareness, and planning skills with this gravity-powered maze game. There are 60 challenges in total, with different levels of difficulty from beginner to expert. Kids stack up the plastic cubes to match the game grid and then drop a marble into the maze to see if they can hit the target. It's the perfect, screen-free activity.
It says this book is for ages 5-7, but the projects seem to be easier for kids who are 6 & up
Bring out your child's inner architect with this unique project book that follows a kid named Izzie Peck as he makes some cool creations and invites kids to make their own designs.
ALSO: 10 Wonderful Ways to Encourage a Love of Reading in Your Child
Kids will have a chance to do amazing 10 Wonderful Ways to Encourage a Love of Reading in Your Child
things like build a bridge out of marshmallows and spaghetti and design a dwelling on Mars. This is great for kids who love to draw and build things.
Does your child have any favorite STEM toys? Let us know in the comments below!
---
NOTE: Parentology may earn commissions from links to Amazon or other retailers.