Get ready to rock out with Dr. Teeth and the Electric Mayhem Band on Disney+!
The musical comedy series stars the beloved Muppets, with Dr. Teeth on vocals and keyboards, Animal on drums, Floyd Pepper on vocals and bass, Janice on vocals and lead guitar, Zoot on saxophone, and Lips on trumpet.
In this new series, which premieres on May 10, the band is on a mission to record their first-ever studio album, but they face some challenges along the way. Luckily, this stampede of chaos has the help of a driven young music executive named Nora. Together, the old-school Muppet band and Nora navigate the current music scene with plenty of humor, heart, and rockin' tunes.
Tommy Lee, legendary drummer of Mötley Crüe, makes a cameo appearance and superfans over the Electric Mayhem's influence on rock n' roll in a new trailer for the series. "The Mayhem? They taught Mötley Crüe how to shred and party. They tattooed their name on me when I was passed out," he says, showing off a "Mayhem" tattoo on his ribcage. It's clear that the Electric Mayhem has left a lasting impression on rock and rockers alike.
Developed by Adam F. Goldberg, (creator and showrunner of The Goldbergs), the Muppets Mayhem promises to be a hilarious and heartwarming series that will appeal to Muppets fans of all ages.
The show is rich with rock references and enough celebrity cameos to fill an arena, which is great because one of the most exciting aspects of the series is the lead up to the Electric Mayhem's first-ever album! The full track listing has been released, and it features a satisfying mix of original songs and covers:
Rock On
Gotta Be
True Colors
The Sound of Us
Have a Little Faith in Me
Join Together
We Are One
Can You Picture That?
God Only Knows
On Our Way
Bridge Over Troubled Water
Rock and Roll All Nite
Gonna Get There
Believe in Us (Extended Version)
Makin' Mayhem (featuring Sofia Carson)
All You Need Is Love
MAYHEM!
The Muppets Mayhem Medley (Mick Giacchino)
Marshmullucinations (Mick Giacchino)
Nora's Medley (Mick Giacchino)
Zoot's Suits (Mick Giacchino)
The Muppets Mayhem End Credits (Mick Giacchino)
Composer Mick Giacchino also contributed several instrumental tracks to the album.
The Muppets Mayhem promises to be a wild ride. The show has been in development for several years and has garnered a lot of buzz from Muppets fans and music lovers alike.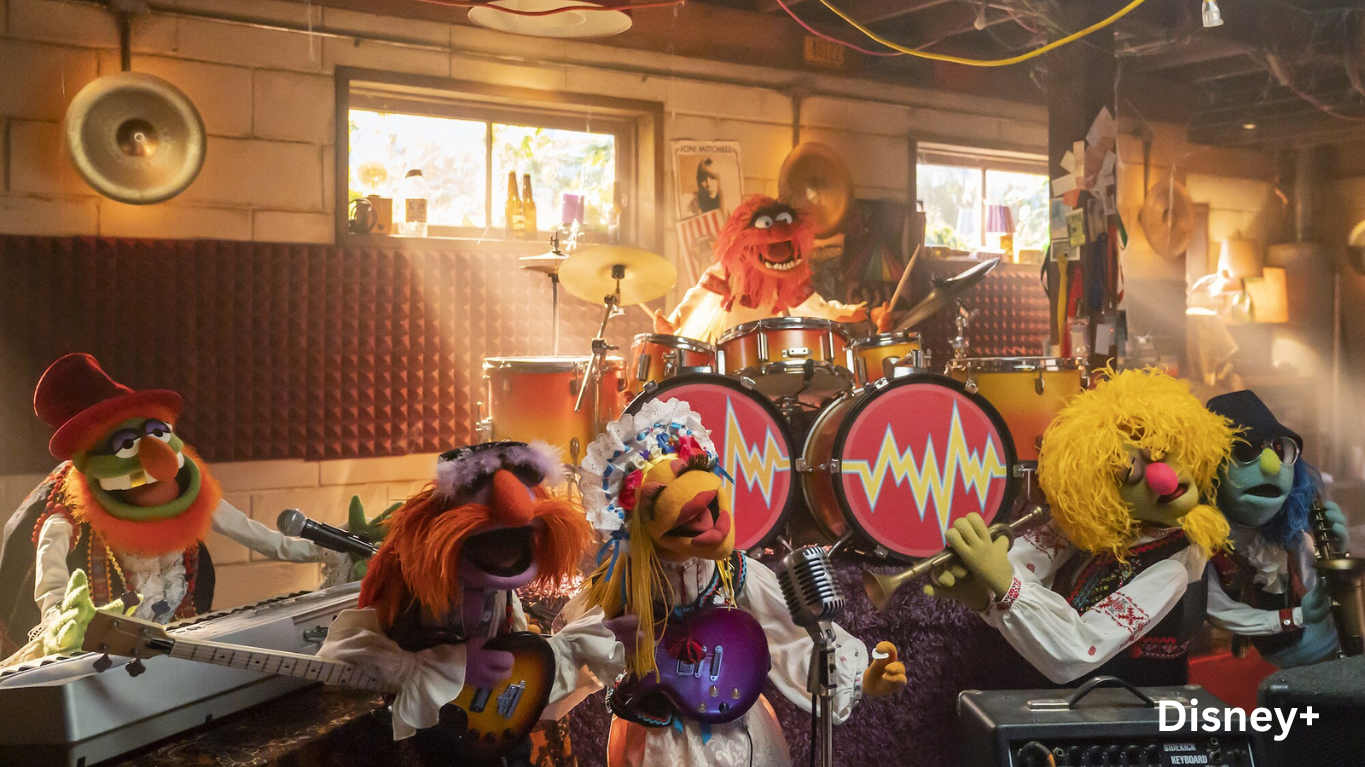 But the music is just the beginning. The Muppets Mayhem will feature an all-star entourage of guest stars, including Billy Corgan, Susanna Hoffs, Paula Abdul, Steve Aoki, Sofia Carson, deadmau5, Kesha, Morgan Freeman, Ben Schwartz, Kevin Smith, Zedd, Danny Trejo, and "Weird Al" Yankovic.
With its classic Muppets humor, star-studded guest cast, and rockin' soundtrack, the show is sure to be a hit with music lovers and Muppets fans alike. So mark your calendars for May 10 and get ready to rock out with Dr. Teeth and the Electric Mayhem Band!
All episodes of The Muppets Mayhem will be available to stream on Disney+ starting May 10.