As parents, we're always telling our kids not to talk to strangers, but now there's a lesser known site that actually encourages strangers to chat. It's called Omegle, and while you're supposed to be 13 years or older with parental permission to log on, kids are flocking to the site on their own.
Omegle is very transparent when it comes to dangers on the site. It clearly states, "Predators have been known to use Omegle, so please be careful." This indicates their awareness of who may be going on their site.
In fact, some people call Omegle a "predator's playground" because users don't have to reveal their real identities and it allows them to talk to kids with very few restrictions. There have been numerous examples of this leading to bad situations in the news.
How Does Omegle Work?
The site was created in 2009 by then-18-year-old Leif K. Brooks of Vermont. According to the New York Times, its popularity spiked sharply during the coronavirus pandemic. When you log onto the Omegle site it touts itself as "…a great way to meet friends, even while practicing social distancing." There's even a tagline that says, "Talk to strangers!"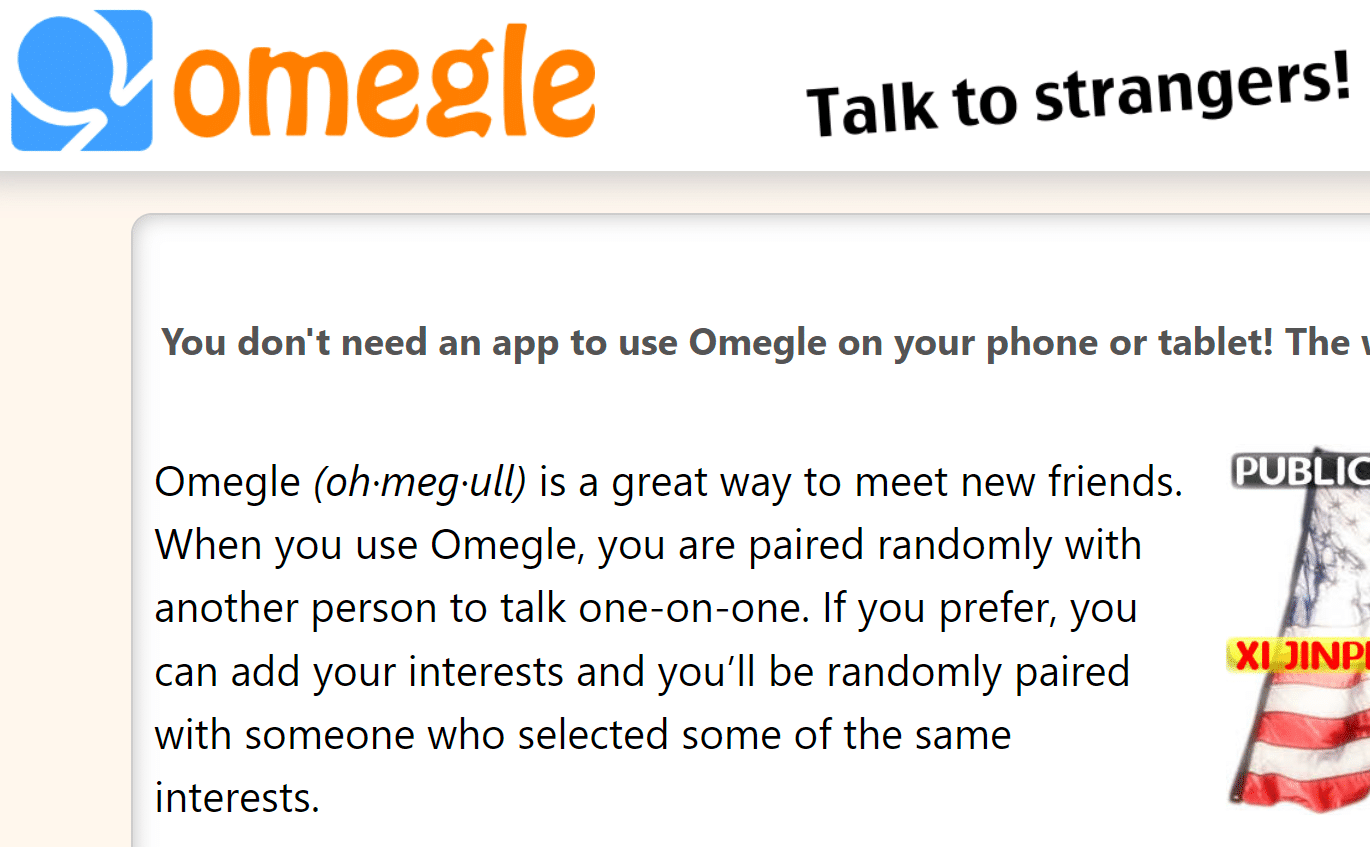 Omegle randomly selects other users on the site for one-on-one online chats. You can choose to chat by text or video. If you choose to add your interests, Omegle will try to pair you with someone who has similar interests. If not, you could meet anyone.
Chats are anonymous unless you reveal your identity. When a chat starts, people are just identified as "you" and "stranger." You can stop a chat any time you feel uncomfortable by clicking the "Stop" button and either exiting the site or starting a new chat with someone else.
You can also choose if your chats are moderated or unmoderated. There's a greater chance of inappropriate activity with the unmoderated choice. Omegle states on its site that "Omegle video chat is moderated. However, moderation is not perfect. You may still encounter people who misbehave." That said, by both of the entries into the video chat there's a note saying it is the "unmoderated section," so it's doubtful if any human moderation exists.
There is also an Omegle adult site that is just that — very adult-like with non-subtle sexual undertones. There is no age verification to enter; the user simply clicks the "OK" button to confirm they are over 18, and they are allowed in.
Is Omegle Safe for Children?
Although the site does warn certain categories are for adults 18 years of age and older, it does not have parental controls and does not have age verification. Additionally, the website does not provide instructions on how a user can report inappropriate conduct by users.
ALSO: White Painted Nails Have a Coded Meaning for Teens
Due to its anonymous nature, anyone, including children can encounter sexual content on the platform. Omegle even acknowledges that predators have been known to use the site.
This means that children who use the site are vulnerable to being taken advantage of by "groomers" and sexual abusers without having to be in the room with a predator.
Furthermore, there is potential for cyberbullying on the site with strangers being able to insult and harass others based on their looks, mannerisms, ethnicity, etc. which could have long-lasting effects on their mental health and self-esteem.
Strangers can also record video chats or save text conversations. The potential for abuse and blackmail by threatening to publish them online can have damaging effects on children and lead to further abuse.
ALSO: What is Sadfishing?
Children also run the risk of being coerced into divulging personal information, such as their name, address, school name, phone number, credit card numbers, passwords, etc. by strangers they think they can trust.
Omegle's Categories
Adult
In this category, once you select it, you'll be warned you'll be directed to an external "site with sexual material." The site will warn you it is for adults 18 years of age and older; however, there is no age verification.
Unmoderated
This category is also for adults 18 years of age and older. As you enter, it warns that "because this section is not moderated, you are more likely to encounter sexual behavior."
Moderated
Users can choose a moderated chat. However, the site does state that "moderation is not perfect. You may still encounter people who misbehave."
ALSO: When to Have 'The Talk' About Sex
Spy Mode
This category allows a hidden third user to ask two users to discuss a topic or question through text chat. The spy can then view their replies. The spy can also exit a chat at any time without ending it for the two users.
College Student
To enter the college student category, a user must enter their student e-mail address to confirm they are enrolled in a university. Users will only be matched with other college students. They can also share their interests to be matched randomly with others who share their interests.
The Bottom Line: Say 'No Way' to Omegle
Although many social media sites could pose a threat to children, Omegle seems to have developed a particularly egregious reputation and you should absolutely make sure your kids are not using the site.
Limiting screen time and monitoring your child's activities while online may seem intrusive, but it is your greatest tool in safeguarding their physical and mental health while ensuring their safety from potential predators.