Baby ointments are an essential item for parents to have in their arsenal to soothe and alleviate the symptoms of diaper rash. These ointments not only provide relief to the baby, crucially, they'll also help in creating a barrier against wetness and future irritation.
Which Ointment is Right for My Baby?
When considering the best baby ointments for diaper rash, there are several things to keep in mind. You're going to want something that's gentle, hypoallergenic, and free from harmful chemicals or fragrances. Additionally, consider the texture and ease of application.
Some baby ointments offer additional features such as antibacterial or antifungal properties, all while claiming to remain gentle enough for delicate baby skin. To help parents make an informed decision, we have spent hours researching and testing baby ointments to find the best ones that provide relief from diaper rash and overall skin protection. Honestly, all the products below are all pretty good.
What's our top pick? Drum roll please…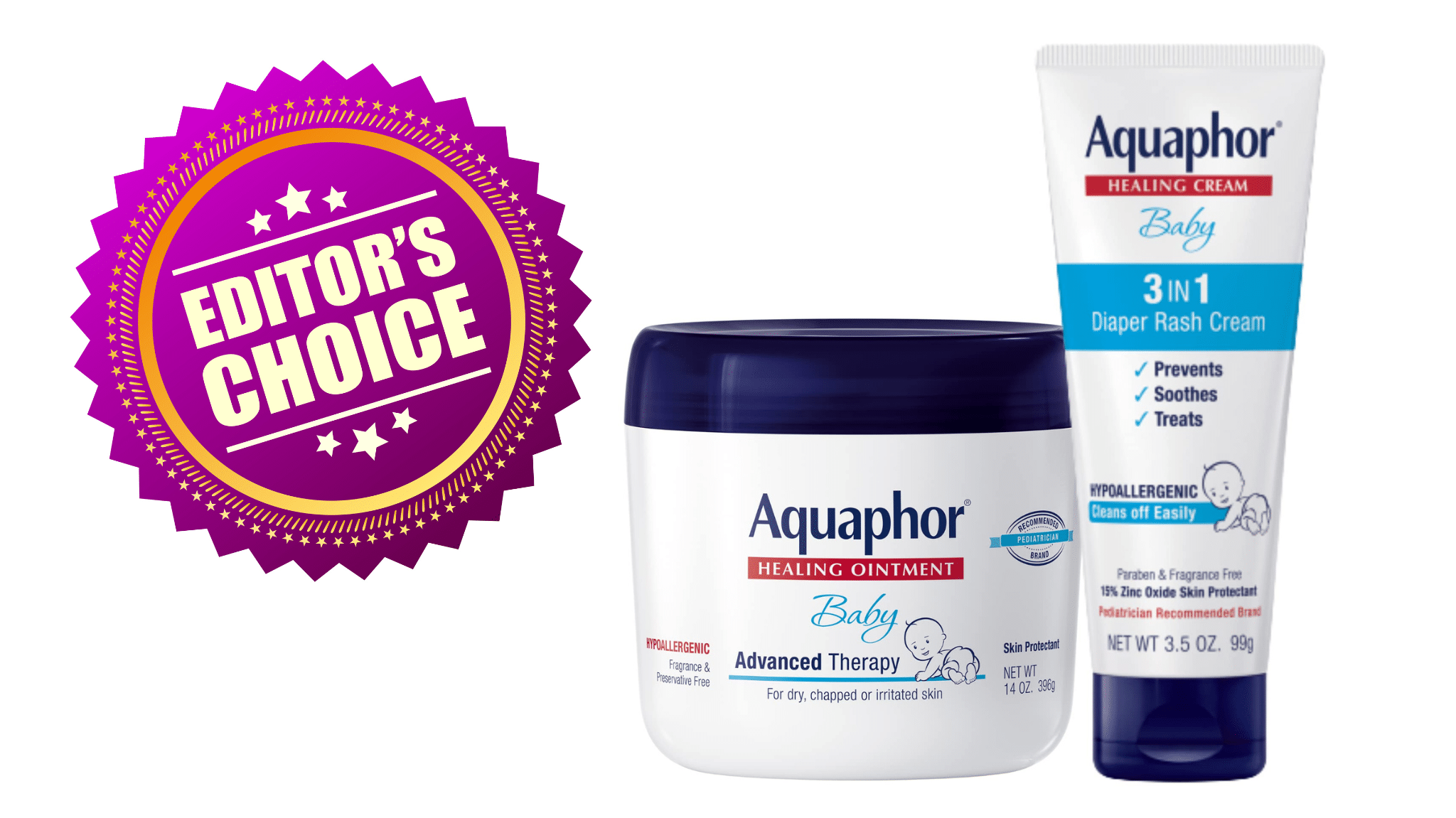 We like Aquaphor. Specifically, the Aquaphor Baby Skin Care Set that comes with a 14 oz jar of Baby Healing Ointment and a 3.5 oz tube of Diaper Rash Cream, providing all the essentials for caring for your baby's delicate skin. This set has proven incredibly effective in preventing diaper rash and soothing any existing irritations.
The Healing Ointment can be applied to sensitive areas prone to redness, like chapped skin from teething and drool rash, as well as during diaper changes to protect your baby's skin from wetness, acidity, and chafing. The Diaper Rash Cream, formulated with Zinc Oxide and Panthenol, creates a barrier that treats mild to moderate diaper rash flare-ups and lasts all night.
We found it easy to apply and gentle on a baby's skin. The Healing Ointment works wonders on multiple skin irritations while the Diaper Rash Cream effectively soothes any rash flare-ups. This kit is a great place to start and will give you excellent protection at a lower price than some more "premium" alternatives.
Pros
Includes both 14 oz Healing Ointment and 3.5 oz Diaper Rash Cream
Prevents and soothes various skin irritations
Free from preservatives and fragrances
Cons
Product color may vary due to ingredients
VERDICT: The Aquaphor Baby Skin Care Set is a must-have for parents seeking gentle and effective solutions for preventing and treating diaper rash on their baby's sensitive skin.
---
This product's all-in-one "triple action" formula not only treats existing rashes but also prevents future ones.
What sets this ointment apart is its gentle yet effective composition, leveraging 12.8% non-nano zinc oxide and other soothing botanicals like oat extract and beeswax. Pediatrician-recommended, this product is free from harmful substances like dyes, parabens, phthalates, and preservatives, making it safe even for sensitive skin.
The thick consistency of this cream immediately eases a baby's discomfort, forming a protective barrier that seals out moisture between diaper changes. Although the price might be slightly higher than other options, its effectiveness and hypoallergenic nature make it worth the investment.
We highly recommend Triple Paste Diaper Rash Cream, particularly to any parent dealing with persistent diaper rash issues.
Pros
Fast-acting relief for diaper rash
Gentle, hypoallergenic formula
Free from harsh chemicals and fragrances
Cons
Price might be higher than some other options
Can take up to a week for complete rash clearance
Not eligible for international shipping
VERDICT: The Triple Paste Diaper Rash Cream provides quick and lasting relief for diaper rash, making it an excellent option for parents seeking effective treatment for their baby's sensitive skin.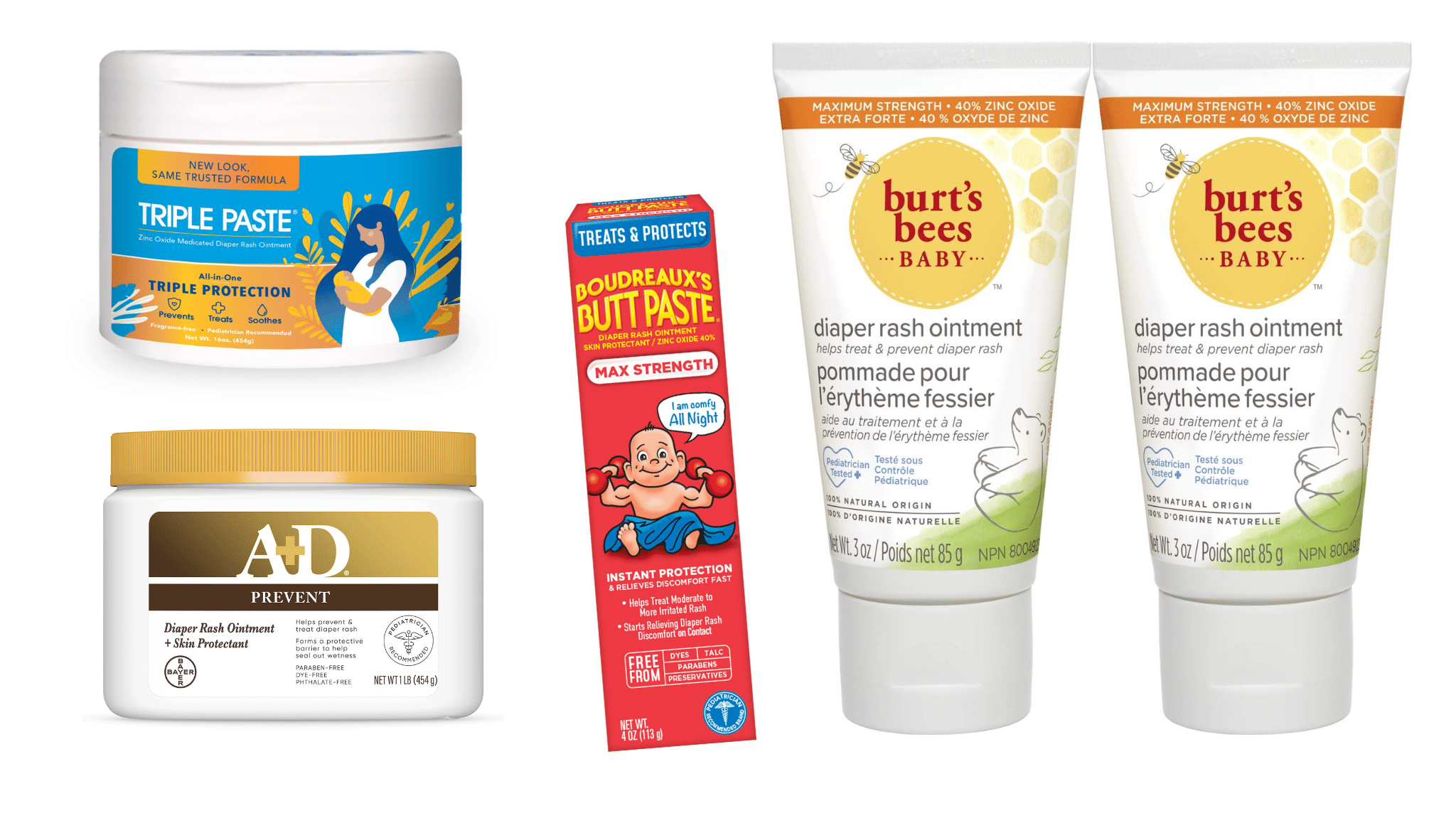 ---
Created by a pharmacist and father of four, Boudreaux's Butt Paste Maximum Strength Diaper Rash Cream has been trusted by parents and pediatricians for over 40 years. This thick, cream-like ointment provides overnight protection and instantly soothes irritated skin by sealing out moisture and keeping your baby's bottom dry. Its 40% zinc oxide formula works effectively, even on more irritated diaper rash cases.
The maximum strength formula has more than double the rash-fighting ingredient compared to the original Butt Paste Ointment, ensuring quick results. Boudreaux's Butt Paste is free from potentially harmful ingredients such as dyes, preservatives, parabens, and talc, so you can feel confident using it on your baby's delicate skin. Many customers have praised Boudreaux's Butt Paste for its ability to heal diaper rash quickly, often within one or two applications.
Some drawbacks include a slightly greasy feel, an unappealing scent, and the tube packaging, which may be less convenient than a tub for some users.
---
A+D Original Diaper Rash Ointment offers an easy-to-use, effective solution for protecting your baby's tender bottom.
Containing both vitamins A and D (hence the name), this ointment not only helps to prevent diaper rash by forming a protective barrier, but also heals dry and chafed skin. What's more, the ointment's versatile nature means it can be used to provide relief to chapped and chafed skin, making it an excellent option for adults as well.
In some cases, the product may not be suitable for extremely sensitive skin types, but with a 4.9 rating from over 16,000 ratings, A+D Original Diaper Rash Ointment has proven to be a trusted choice for many parents.
---
Burt's Bees Baby Diaper Rash Ointment is a trusted and natural option for treating and preventing diaper rash.
The combination of 40% zinc oxide, shea butter, lavender oil, and jojoba seed oil work together to effectively relieve irritation and protect your baby's delicate skin from moisture.
Despite its thick consistency, which some users may find hard to spread, this ointment is an excellent choice for any parent seeking a reliable and "100% natural" solution for their baby's diaper rash.
---
More Things To Consider
When it comes to choosing the best baby ointment for diaper rash, there are a whole bunch of factors and features to consider. It might be worth it to buy 2 or 3 different brands to see which ones you want to reorder.
ALSO: What is a Postpartum Doula and Should You Get One?
Here are a few things to pay particular attention to:
Ingredients
First and foremost, consider the ingredients used in the ointment. Opt for products with natural, gentle, and hypoallergenic ingredients that will be safe for your baby's sensitive skin. Some key ingredients to look for include:
Zinc oxide
Aloe Vera
Calendula
Beeswax
Form and Consistency
You'll want to choose an ointment with a thick, yet easy-to-spread consistency. This will ensure that it provides a protective barrier between your baby's skin and the diaper, while still being easy to apply.
Scent and Fragrance
Although you might prefer a "pleasant" scent, it's better to pick an ointment that is either fragrance-free or has a mild, natural scent. This will minimize the risk of irritation and allergic reactions for your baby.
Price and Quantity
Compare both the price and quantity of the ointment to make sure you are getting good value for your money. Keep in mind that more expensive doesn't always mean better quality. Pay attention to customer reviews and ratings when assessing the overall value of a product.
Brand Reputation
Consider brands that are known for producing high-quality baby care products. Research the company's reputation and customer feedback to ensure you are making a wise purchase.