Today marks the release of Blue's Big City Adventure on DVD!
From Nickelodeon Animation, the "Blue's Clues & You!" feature-length film brings back beloved hosts Josh Dela Cruz, Steve Burns, and Donovan Patton alongside fan-favorite animated characters including Rainbow Puppy, Mr. Salt, Mailbox, Tickety Tock, and Slippery Soap.
Fans are also treated to special appearances by a star-studded cast including BD Wong, Ali Stroker, Taboo from Black Eyed Peas, Alex Winter, Phillipa Soo, and Steven Pasquale. So get ready for an exciting adventure with this incredible cast of characters and their famous friends!
Let's Get It Started
At first glance, the Blue's Clues franchise might seem like a bit of a departure for this Black Eyed Peas alum, but as it turns out, Taboo's own kids have grown up with the delightful blue dog at different stages.
"All the different iterations of the host, whether it's Steve, Joe or Donovan, and now Josh, my kids have been growing up with them and in turn, it's been part of my journey as well," says Taboo, whose three children are now aged 30, 14 and 7.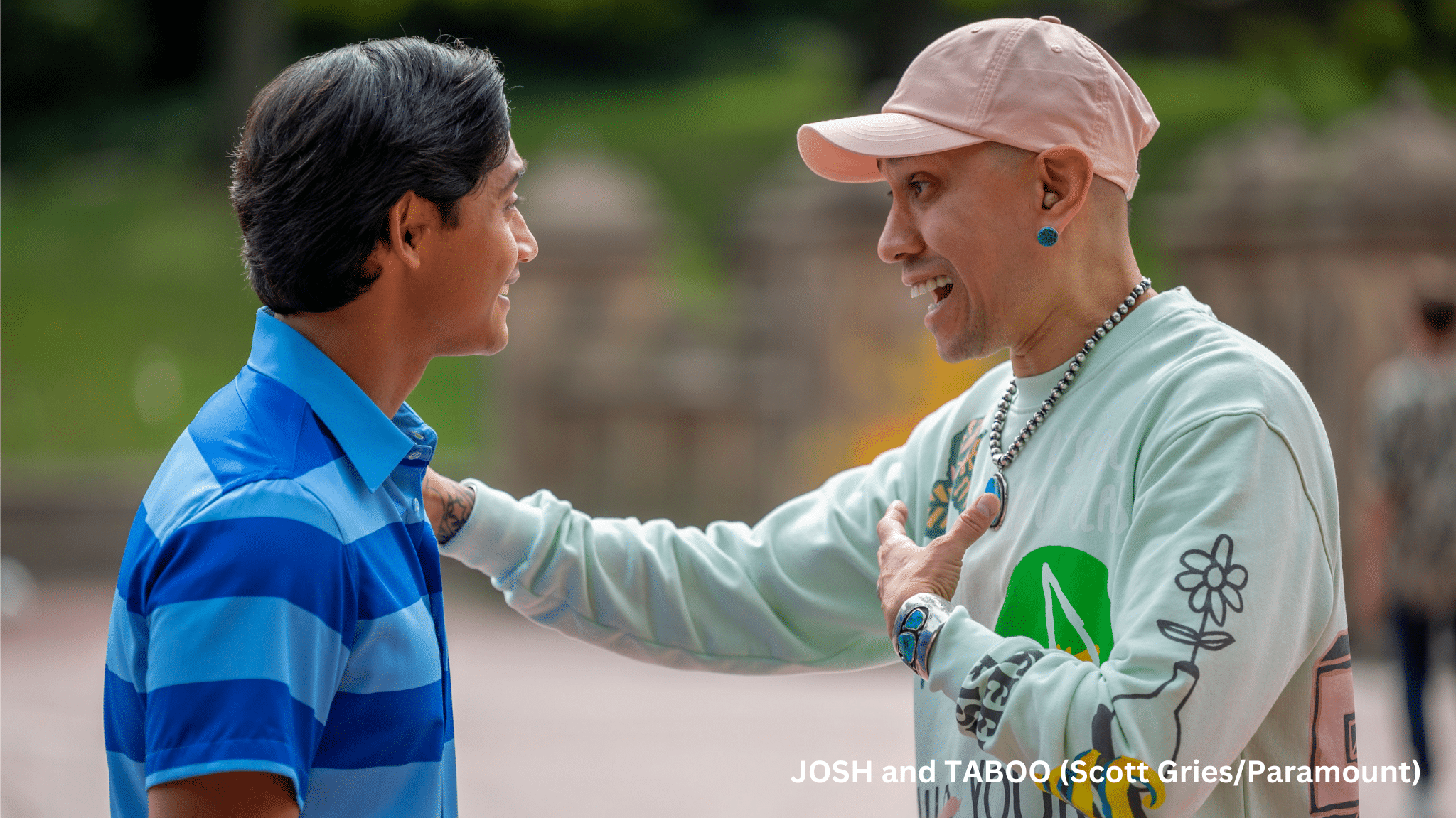 "The fact that Josh is a Filipino representative for us as voices in our communities; I'm native American and Mexican, but my wife is Filipino," Taboo says. "So to have representation in a feature film, let alone an amazing brand like Blue's Clues, gives kids hope that one day we can see more representation on the big screen."
Inspired to Make More Children's Media
Taboo wants to do more work within the children's content space to inspire future generations.
"I learned how to become a conduit of hope and inspiration. You know, my day job as a Black Eyed Pea is great. I love it and I never take it for granted," he says. "But what's beyond that is being able to inspire kids in my neighborhoods, in my communities, inspire kids to hold on to dreams and aspirations. What better place to do it than in the kids' space?"
After beating cancer in 2014, Taboo had his daughter, Jett, who he calls his 'miracle baby'.
"She sparked the creative energy to be able to create content for kids," he says.
The artist also found another role model in the late Kobe Bryant.
"I got an opportunity to be with him and his family. He inspired me in so many ways, the way he wanted to create content for his daughters, for kids around the world, and be that person that provides storytelling that kids would love and be inspired by," says Taboo.
Opportunities for Representation
Taboo has also channeled his passion into writing a children's book, appropriately titled A Kids Book About Identity.
"It was a labor of love for my daughter because she's the one that I read to every night," he says. "This is the space that I want to live in. I want to be able to provide opportunities for other Native American kids, for other Latino kids, to be able to have a platform to express themselves and create amazing content as well."
Set in New York City, the new Blue's Clues film lends itself well to that kind of energy and vibrancy. Taboo definitely found the love while working on this project.
"The beauty of all these different nationalities, all this harmony and love. Everybody was uplifted and I know it was during a hard time (the movie was shot during the pandemic), but I felt like we escaped that because of this movie," says the performer, who also suffered a torn ACL and underwent extensive physical therapy during the shoot.
"Every time they would say 'action', the pain would go away. And it was because of the energy and the adrenaline that Josh was giving me; the cast, the crew, everybody involved was just giving me the energy to say, 'You know, what, who cares? The pain is secondary. It's all about this movie.'"
ALSO: A Few Disney Animated Films in Desperate Need of a Sequel
This multi-talented artist is already looking ahead to other opportunities to improve representation in media and create a more robust canon of inclusive children's content.
"I write comics as well. I've been writing about that world for four years now. I'm very proud, because that allowed me to become a storyteller and be able to bring indigenous characters to that space, to be a conduit and a bridge between storytelling and indigenous communities and indigenous representation. That's something that I'm very passionate about."
What Can Fans Expect From The DVD?
Get ready to join Josh (Josh Dela Cruz) and Blue (Traci Paige Johnson) on a musical adventure of a lifetime.
When Josh gets the chance to audition for Rainbow Puppy's (Brianna Bryan) Broadway musical, the duo skidoos all the way to New York City where they make new friends and discover the magic of music, dance, and chasing after one's dreams.
For the first time in the Big Apple, the entire Blue's Clues crew, including all three hosts Josh, Steve (Steve Burns), and Joe (Donovan Patton), reunite with their beloved animated friends, singing and dancing. along with this star-studded cast on an epic journey of self-discovery.
The DVD release has a ton of special interactive features, including sing-alongs, vlogs and special hide and seek content – just for kids.
Blue's Big City Adventure is now available on DVD from Paramount Home Entertainment and Nickelodeon Home Entertainment as of March 28, 2023.