Everyone knows that the best time to learn a new language is when you're still a kid. Kids pick up new languages faster than adults and are more likely to sound like native speakers if they start speaking a second language when they're still young.
There are so many language learning apps for kids, but not all of them are good. Many are outdated, have boring graphics, and annoying, in-app purchases. But there are still some good choices out there that are fun for kids and will teach them a new language in an engaging way.
Here are 5 of the best foreign language learning apps that will make learning a new language fun for your little one!
Age: 3+
Languages: English, Spanish, Chinese, French, and German
Studycat is a cute orange cat who will take kids on different, fun quests to help them learn a new language.Your child can develop their listening, speaking, grammar, reading, and writing skills using this app. Kids will be encouraged to speak throughout the game to help reinforce the vocabulary. There are also extra learning resources for kids to practice their language skills both online and offline.
Age: The app says it's for 4 years and up, but I recommend this app for older kids who read English well.
Languages: 40 languages available for English speakers
This free app is very well-designed and is the most popular language-learning app for a good reason. It has cute graphics, but it is very text-heavy, so this is better suited for older kids with good reading skills.
Kids will learn words, sentences, reading, grammar, as well as correct pronunciation. There are also interactive stories, podcasts, and in-person events.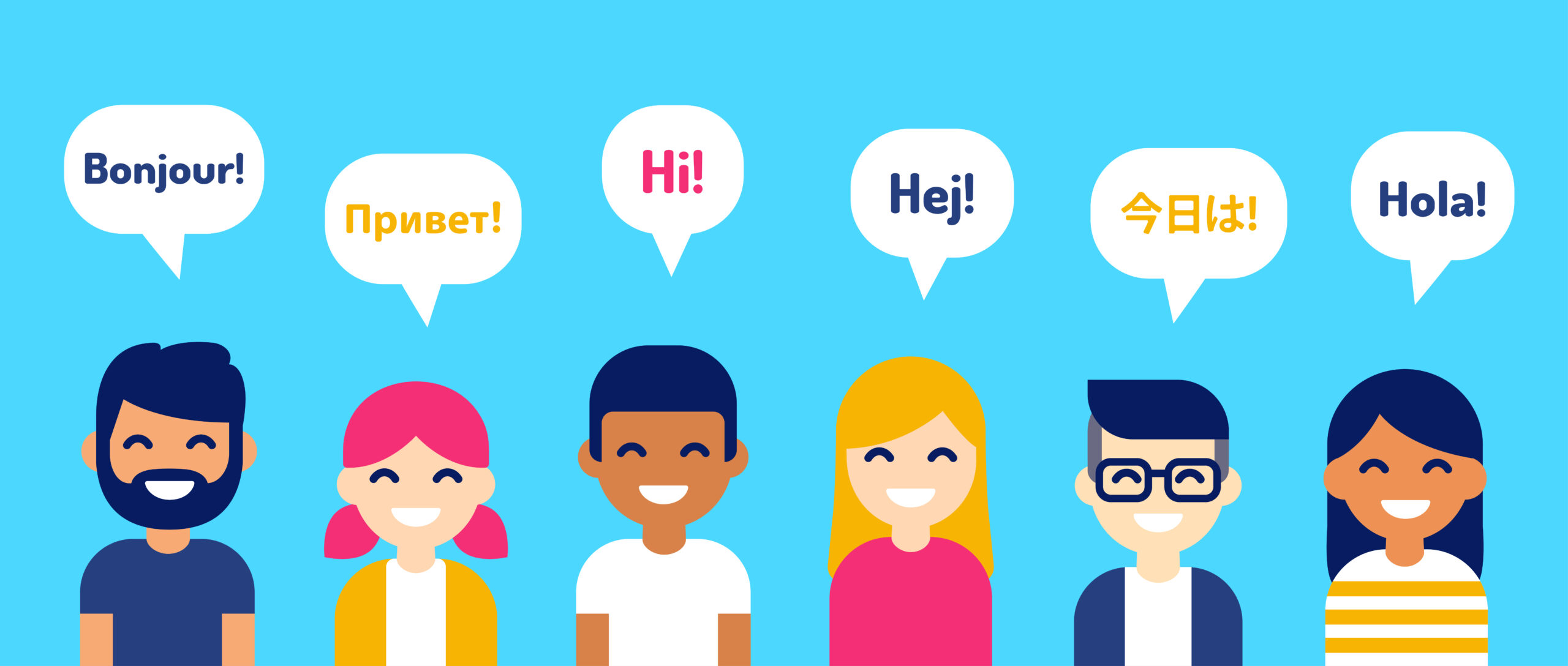 Age: 4+
Languages: Spanish
This app has adorable animation that is perfect for younger kids. Your child will learn Spanish words with cute monsters and animated letters to help them learn how to spell and say commonly used words in Spanish. They will also hear these words in context and have a clear understanding of the meaning of each word through interactive features.
ALSO: From McConaughey to Shakira: 5 Celebs with Bilingual Children
This app is best suited for kids who already know how to read English, as it places a strong emphasis on letters, spelling, and reading.
You can choose the "Spanish Immersion" mode for native Spanish speakers and advanced speakers. There is also a "Spanish with English Translation" mode for English speakers who are new to Spanish.
Age: 2-12 years old
Languages: 48 languages
There seem to be a lot of glitches with the phone app, so using the browser version is recommended. This dinosaur-themed language app has adorable and colorful graphics that are engaging for children.
Dinolingo is packed with games, videos, songs, and books to help reinforce vocabulary and help children practice their listening skills in a foreign language.
The layout makes it easy for younger kids to navigate, but since the browser version works better than the phone, it's best for kids who can use a mouse easily.
Age: toddlers and preschoolers
Languages: English, French, Spanish, Portuguese, and Mandarin
Peg and Pog are kids who travel around the world and even go to space to help children learn a new language. The animation is very cute and eye-catching for kids and the gameplay is simple for young learners but still fun.
Children get to drag and drop different items into various colorful scenes to hear the vocabulary words. They will explore the ocean, and space, and even go on a fun balloon ride with Peg, Pog, and all their friends!
Is your child learning a new language? Are they using an app? Let us know in the comments below!