Jeremy Renner's new Disney+ original series, "Rennervations," is taking the world by storm. The 'The Avengers' and 'Hawkeye' star and his cast and crew celebrated the show's world premiere with a red-carpet event, FYC panel, and block party reception in Los Angeles on April 11, 2023. The event was attended by members of the build crew featured on the show, as well as special guests from charities featured in the series.
"Rennervations" follows Renner and his team of experts as they travel the world, from his hometown of Reno, Nevada to Chicago, Illinois, Cabo San Lucas, Mexico, and Rajasthan, India. At each location, they connect with leading organizations like Big Brothers Big Sisters, The BASE Chicago, Uva Jagriti Sansthan, and Casa Hogar of Cabo San Lucas to learn about the needs of the local communities.
Renner and his business partner, Rory Millikin, meet with organization leaders to better understand the community's most urgent needs, and then they use what they've learned to build something incredible that will have a lasting impact.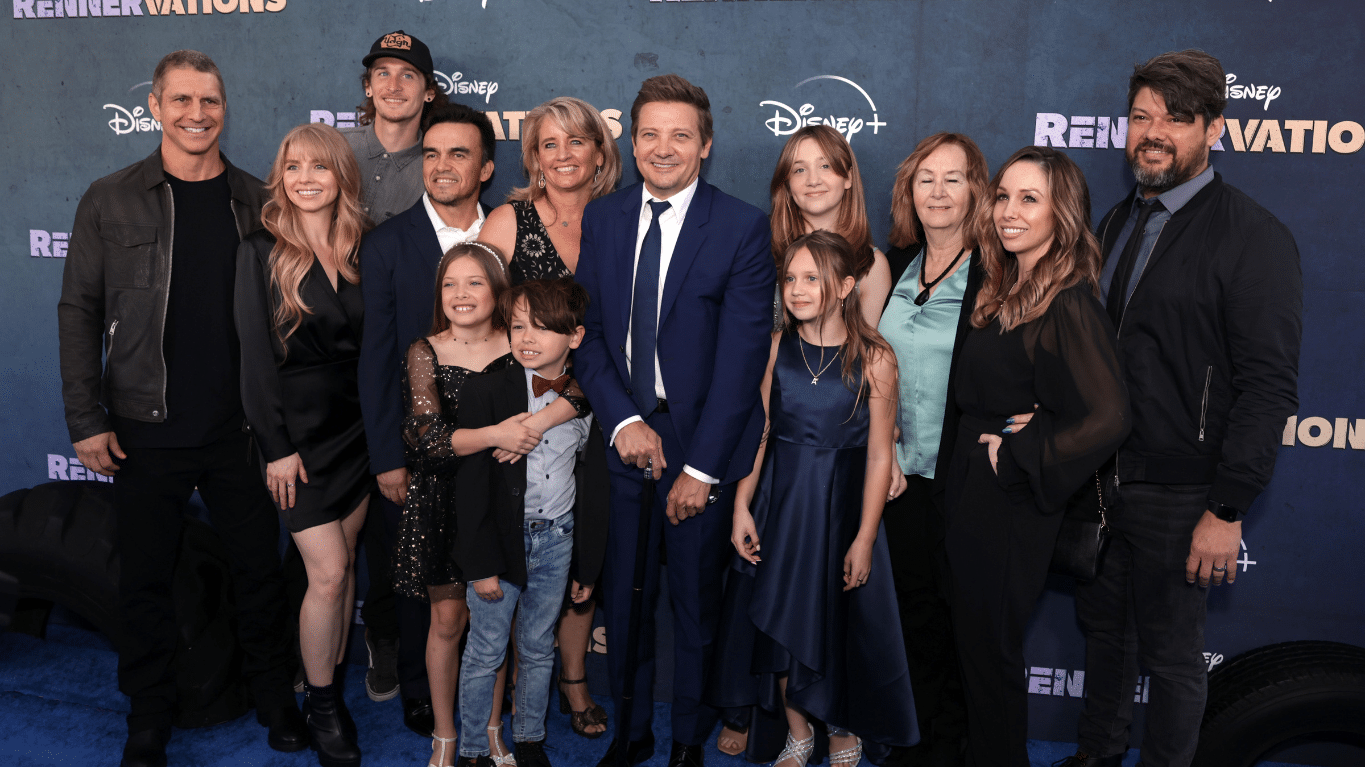 Renner's Rennervation team includes a group of skilled professionals such as his friend and business partner, Rory Millikin, lead mechanic Corey Wardleigh, lead fabricator Rob "Bender" Park, along with the build crew including Roxy Molohon, Justin Self, Merri Oswald, Akamu "AK" Whatley, Skiland "Ski" Judd, Ryan Gunter, and Nick Socha. Together, they bring their expertise and passion for construction to each project and work tirelessly to create innovative solutions to local challenges.
The show highlights Renner's passion for repurposing large vehicles, and he shared his inspiration for the series during a Q&A session following a screening of the show. "I started buying vehicles with the intention of reimagining them," Renner said. "There's always a purpose for every single one of them, and the purpose kept changing as I kept buying more."
Renner's celebrity friends Vanessa Hudgens ("The Princess Switch"), Anthony Mackie (Marvel Studios' "The Falcon and the Winter Soldier''), Anil Kapoor ("Mission Impossible," "Slumdog Millionaire"), and Sebastián Yatra ("Encanto") join him in delivering the finished vehicles to each of the organizations, amplifying the impact of their work.
In "Rennervations," Renner and his all-star build crew turn a tour bus into a mobile music studio, a delivery truck into a mobile water treatment facility, a shuttle bus into a mobile recreation center, and a city bus into a mobile dance studio.
Renner's passion for giving back and his dedication to repurposing these vehicles shows how small ideas can lead to big things. The series is a testament to the power of human creativity and compassion, and a reminder that everyone has the ability to make a positive impact in the world.
During the Q&A session, Renner shared more about his personal motivations for the project. "When it became about kids directly, I got really excited about it and started going really, really crazy," he said. Renner's excitement for the project is infectious, and he hopes that it will inspire others to get involved in giving back to their communities. "I want people to take a step forward and do something that's for someone else," he said. "If you do that, it can start a chain reaction."
ALSO: How to Change the Content Rating on Disney Plus
The series is a true labor of love for Renner, who is no stranger to construction. His commitment to the project is a testament to his resilience, especially after a near-fatal accident earlier this year when he was run over by a snow plow. Despite the setback, Renner bounced back and remained dedicated to the show.
"Rennervations" episodes 1-3 premiered on Disney+ on April 12, and fans can't wait to see what Renner and his team will create next.